Plaque unveiled to honour Tsitsikamma anglers
A plaque in honour of Tsitsikamma anglers who died whilst trying to access fishing rights into the MPA (marine protected area), was unveiled in the Tsitsikamma section of the Garden Route National Park on Saturday, 18 January.
Speaking at the ceremony, Tsitsikamma Angling Forum Chairperson, Henrico Bruiners, said he is overcome by emotion when he thinks about the process leading to the partial opening of the sea. 'The plaque serves as a memoir for the Tsitsikamma angling community and signifies the struggle encountered leading to the opening of the sea.'
Former Chairperson of the Angling Forum, Shane Cunningham also reflected on the 25-year journey to the rezonation and the debates and discussions between scientists and anglers.
The plaque honours John (Johny) William Pedro (1951- 2009) and Christiaan Jacobus Langisa (1945 – 2018) and was erected in the Park's prime spot (en route to the famous suspension bridge). Wilma Langisa, widow of Christian Jacobus spoke fondly about get husband's last days and the painful journey of denied access to the sea.
The Mayor of Koukamma, Sam Vuso, who unveiled the plaque, has been part of negotiations with the Department of Environmental Affairs (DEA) and SANParks. He said most anglers in Tsitsikamma used to fish in the sea prior to the complete closing of the MPA in 2000 to a complete no-take status.
'The restoration of rights to fish in three zones is a restoration of dignity which is part of the Government's agenda. We cannot stop there, we need to continue to work closely with SANParks .'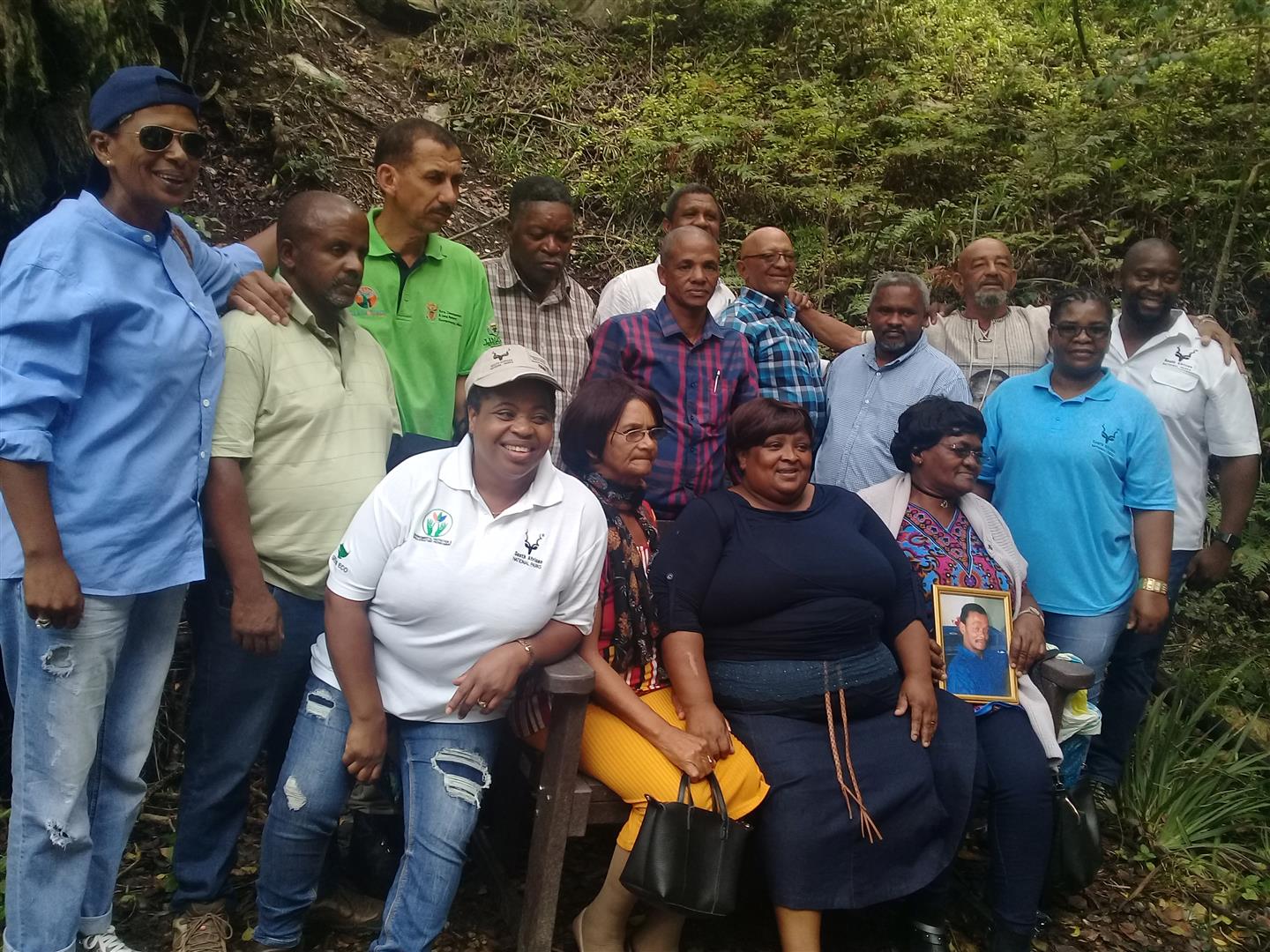 Families and employees at the unveiling of the plaque.
SANParks' dual function of providing benefits for society and ensuring such benefits are protected for current and future generations. Park Manager for Tsitsikamma, Victor Mokoena says 'Although tighter control was placed to manage the zones, it is important for the Park to have a healthy relationship with communities living in and around it.'
Controls include that any person who wishes to register must apply to the management authority (SANParks) for registration and submit proof of the following as part of the application: That they live in a Tsitsikamma community, a copy of their SA ID, a copy of a valid recreation angling or bait permit issued according to the Marine Living Resources Act of 1998.
Some 360 anglers have fished in the 3 zones since its rezonation three years ago. Marine ecologists and scientists also continue with monitoring fish stocks in the no-take areas and the 20% controlled take-zones.
The Park's People & Conservation works closely with the forum, communities in Tsitsikamma as well as with various environmental organizations.
'We bring you the latest Plettenberg Bay | Garden Route news'
Source: Knysna Plett Herald News