Nature's valley at its best
To order a calendar, call the NVT office on 044 531 6820 or pop into their office in the valley.
Next year promises to be a beautiful one…quite literally… as the Nature's Valley Trust's recently launched calendar for 2022 features some stunning shots of the picturesque coastal enclave.
The small community-driven NPO, which focuses on conservation, has curated the calendar, using the top photographs submitted through its calendar photograph competition held earlier this year.
Bitou residents were invited to submit photographs capturing the essence of Nature's Valley. The criteria included that the photographs had to have been taken with a cellphone and had to be 1MB or larger.
The NVT was flooded by entries which were eventually whittled down to 50 photographs. These were exhibited to the public recently, from where a further process reduced them to only 13 – one for the cover and one for each month of the year.
"After a fantastic turnout of picture entries, we have our final 13 images. A difficult task for our judging panel, but we feel their choice has captured the spirit of our beloved valley," the team said. "The calendar looks absolutely stunning! The pictures have been beautifully edited and are now in production, waiting for print."
The NVT has partnered up with the experts at Phoenix Design – the Calendar Specialist. This family-run printing company has been in business for 30 years.
The calendar is 45cm x 32cm and printed on high-quality art paper. Each one is individually boxed in packaging strong enough for posting.
As the whole project has been self-funded and community-driven, and to take this fund-raising project to the next step, a minimum of 200 paid pre-orders are needed before printing can go ahead.
Calendars will sell for R250 each or five for R1 000. The team will be taking pre-orders until 27 September. "Then we will know if we have reached our target and will be able to produce an invoice for your payment. If all goes according to plan, the NV calendars should reach doors early December, latest," said the team.
To order a calendar, call the NVT office on 044 531 6820 or pop into their office in the valley.
"We hope this will be the first of many Nature's Valley calendars. Judging by all the wonderful photos submitted we are not short of photographic talent," said the NVT.
Let's do our Christmas shopping early, and support the wonderful work of NVT at the same time.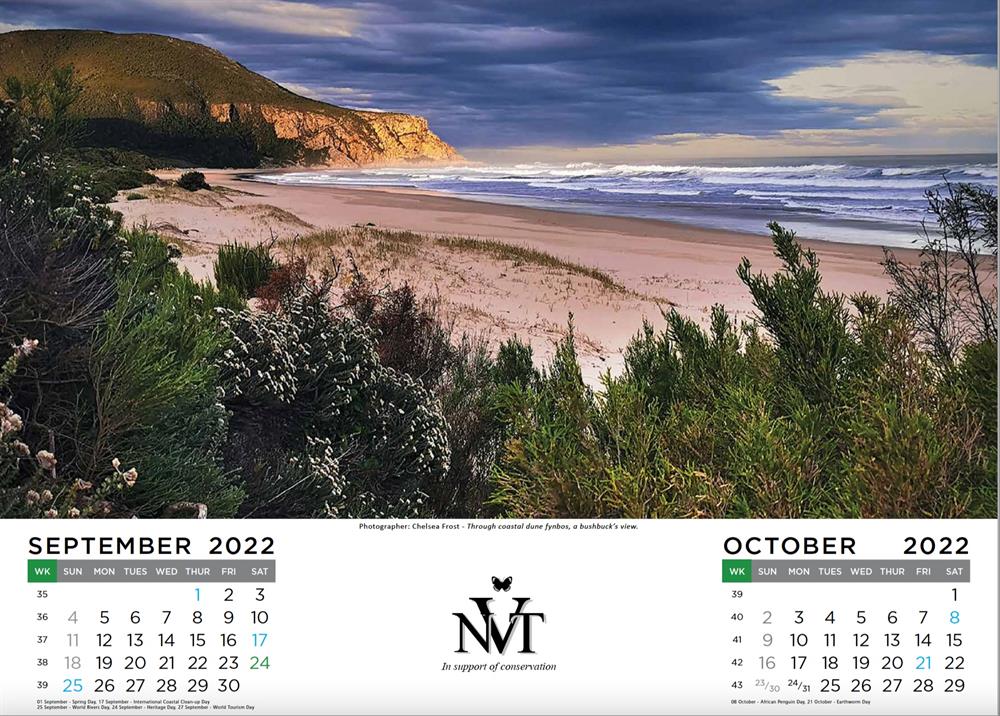 A sneak peek into the Nature's Valley Trust 2022 calendar.
'We bring you the latest Plettenberg Bay | Garden Route news'