They say a dog is man's best friend, and this maxim certainly rings true in Plettenberg Bay where Blackie, the town's crime-fighting pooch, has been serving and protecting his community with great success. But it rings even truer for Blackie's handler, Otto Olivier, who has formed a very special bond with his four-legged partner over the past three years.
Criminals in the area might not agree, however, as Olivier and his canine celebrated Blackie's 24th arrest last week.
"It has been an amazing journey. It is unbelievable to think that just a few years ago, Blackie was found abandoned and neglected in the streets of Plett and today has grown into a wonderful working dog," Olivier said.
Blackie was found by the Plettenberg Bay Animal Welfare Society (Paws) roaming the streets of the town, thin and neglected, on 18 September 2017. "People saw him walking around Plett, but he was scared when approached and difficult to catch. Eventually, they did."
Paws posted a picture of the then two-year-old German shepherd on social media searching for the owner, but after a week had gone by, he was put up for adoption. That is when the Plettenberg Bay Crime Prevention Association adopted the dog with the goal of establishing a local K-9 unit. Thanks to sponsorships, the adoption was approved and so was training for Blackie and Olivier.
Rocky start
"No one believed that Blackie would take to the task as he did. In the beginning, as soon as he was released from the leash, he would take off, but something along the line clicked and he has become a wonderful trainable dog," said Olivier.
Blackie was trained to assist in many aspects of crime-fighting, including tracking of suspects and assisting in search-and-rescue operations, and has been instrumental in 24 arrests of suspects in and around Plett.
"Most of the cases have been property related, including burglaries. He follows the scent of suspects."
Events on Sunday 20 September provided a prime example of Blackie's prowess. The Plettenberg Bay Crime Prevention Association's response team set off to the Schoongezigt Estate in Piesang Valley following reports of a burglary. Blackie found the suspect hiding in the bushes and the man was arrested on the spot. "The area is very dense with vegetation. I was about 5m from the suspect and couldn't see him, but Blackie knew he was there." A stolen television was also recovered.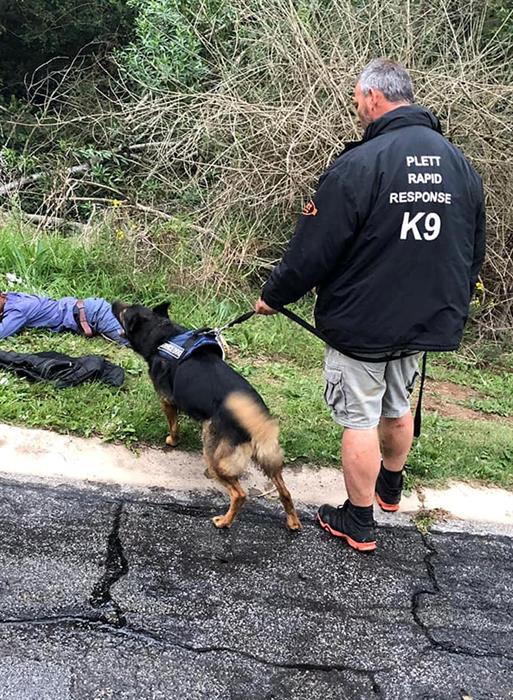 Blackie the Plettenberg Bay crime-fighting pooch and his handler Otto Olivier track down a suspect. Photos: Yolande Stander
'Looking out for me'
Blackie lives with Olivier and sleeps on his bed. "Blackie is truly my best friend. I know that when he is around I will always have someone looking out for me. He knows when there is something amiss, long before anyone else does," said Olivier.
And this canine just loves working, said his handler. "When my phone rings at night and I set foot out of the bed, Blackie knows that work is imminent and immediately runs and sits at the front door."
Blackie gets regular veterinary screenings and inspections as required for licensing purposes. "We record everything that he does and eats to ensure he is healthy and does not work too hard."
In the meantime, two furry colleagues – also German shepherds – have been added to the crime-fighting family of canines. Zeus is used in drug-related crimes and has managed 16 arrests, while Kira is undergoing training to assist with patrols, tracking and search-and-rescue operations.
Related article: Canines claw their way into kids' hearts
'We bring you the latest Plettenberg Bay | Garden Route news'
Source: Knysna Plett Herald News