Markets Close to Paarl – more than 30 Minutes Drive
Markets Close to Paarl – more than 30 Minutes Drive
The countryside offers fantastic markets for food lovers and flea market enthusiasts alike. Visiting one of these markets is a great day trip and the perfect excuse to explore the beautiful towns close to Paarl, some of these markets are even within an hours drive from Paarl.
Pure Boland Farmer's Market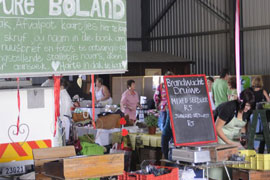 Town: Worcester
Distance from Paarl: 57 km
Put on your wellies and catch up on the local goings-on while you shop at the Pure Boland Farmers' Market at The Green Shed in Worcester. Weather and seasons permitting, you can even pick your own grapes in an adjoining vineyard, hitch a lift on a tractor or cycle down dirt tracks on the working farm. Stock up on koeksisters and hertzoggies, olives and preserves, fresh fruit and pies, and Trevor Daly's potato breads and ciabattas.
Trading Hours: Open on the first Saturday of the month, from 9am to 2pm. Green Shed grape depot, Brandwacht, Worcester.
Call 082 301 8561 or visit www.pureboland.co.za
31 Greyton Morning Market
Town: Greyton
Distance from Paarl: 106 km
Mingle with the locals, meet village celebrity stallholders and get the inside story. This popular morning market is the focal point of social life in Greyton and aims to provide quality products ranging from fresh, gourmet produce, preserves, cakes, locally made cheeses and pestos to homemade lemon juice and lemon curd as well as a variety of freshly baked breads and pies. Shoppers queue from early morning for the delectable pancakes served with lemon ice cream.
Ethical shopper tip: Only locally grown, natural and organic produce is sold at this market.
Trading Hours: Sat 10am-12 noon
Visit: http://www.greyton.net/
Elgin Blues Market
Town: Grabouw
Distance from Paarl: 75 km
These joyous get-togethers of food, wine and music lovers are gaining immense popularity. The atmosphere is laid-back and some of the best local blues bands perform while stallholders hawk homemade offerings such as cheese platters, savoury pancakes, steak rolls and chicken wraps, as well as real "boeretroos". Smart shopper's tip: Wines from top Elgin Valley wineries such as Paul Cluver, Elgin Vintners and Oak Valley are on sale at estate prices.
Trading Hours: Twice a month on a Saturday
Call Simon on 082 654 9654
Hermanus Pietersfontein Food & Wine Market
Town: Hermanus
Distance from Paarl: 127 km
A trendy and sophisticated rendezvous for gastronomes, this carefully curated market offers a wonderful and unique mix of excellent quality homemade goods, such as breads, old-fashioned jaffles and cakes, herbs and spices, and a range of exquisite cheeses and cured meats. Wine tasting is free of charge, and the long tables under the umbrellas fill up very quickly with those enjoying breakfast or lunch.
Ethical shopper tip: The market offers a child-safe and dog-friendly environment and no plastic packaging is allowed.
Trading Hours: Saturdays 9am – 1pm
Visit http://www.hpf1855.co.za/
Kleinmond Fresh Market
Town: Kleinmond
Distance from Paarl: 107 km
Navigate your way through an amazing selection of homemade produce like free-range chicken pies, fresh crusty loaves of bread, divine pancakes, fish cakes, pickled calamari and cupcakes in this converted shed at the lower end of vibey Harbour Road. Load up on your weekly organic veggies and meet the chefs and producers.
Ethical shopper tip: All products are local and produced slowly as nature intended, with lots of love and care.
Trading Hours: Saturdays 9am – 1pm
Visit http://www.harbourroad.co.za/
The Riebeek West Funky Fresh Market
Town: Riebeek West
Distance from Paarl: 52 km

Come peruse amongst the stalls and you'll find Marvellous Mosaic, Comfy Plumb Ponchos, Creative Ceramics, Cuddly Soft toys, Wonderful Wooden toys, Goodies for the garden and interesting collectibles!
Enjoy the smooth sounds of  funky Riebeek Valley Steeldrum band. Indulge in delicious home made treats and bakery goods, as well as breakfast and beverages.

Source: eat-in.co.za