Selection of Team Nederburg 2019 is heating up!
After the Durban selection at the Tops @Spar Wine show early May, this Saturday 1st of June will see the SAWTC Western Cape selection at the Taj Hotel, a wine tasting competition where at least 10 seats for the finals will be up for grabs by members of the public.
As in every year since 2013, wine lovers, amateurs and professionals will pack the first floor of the Taj Hotel to taste 50 wines from the most exciting wineries as a prelude to face ten anonymous decanters they will have to identify.
The ones who will identify most of the wines will be invited on the 21st of June 2019 for the National finals that will decide the 2019 Team South Africa flying to the Loire Valley in October. Some will say that statistically is can be a very simple exercise but actually your palate memory is more important than all the books on wine you may have read. As a consequence, everybody can take a chance, and try to remember the wine they just have been tasting!
This Saturday wine lovers will taste wines from Nederburg, Le Bohneur, L'Avenir, Ken Forrester, Spier, Creation, Almenkerk, Spioenkop, Radford Dale and Spice Route. Competitors can taste as their own pace before entering the blind tasting arena.If you miss this opportunity, extra seats for the finals wine be available at the Tops @Spar wine show in Johannesburg on the 8th of June, or at the Grand West in Cape Town on the 13th of July.
In 2018, Jolette Steyn was crowned Provincial Champion. Who will dethrone her?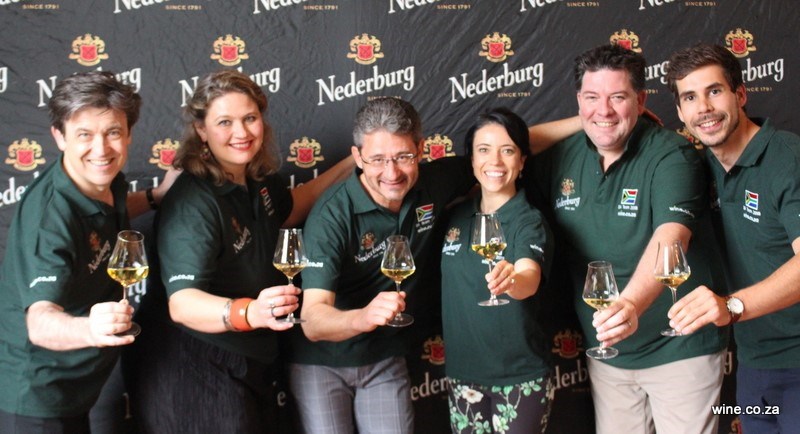 Team Nederburg 2018 – Jean Vincent Ridon with Captain Anita Streicher-Nel, Pieter de Klerk, Welma Smith, Anton Smuts & Cyril Meidinger