Magazine Showcase
Getaway Magazine October 2015
Showing You Quality Articles…

ShowMe and Getaway, Africa's finest travel magazine, bring you some of this magazine's top notch content right here on our site. And if that doesn't impress you, wait 'til you have a copy of Getaway open in front of you:

Unexpected holiday activities, off-the-beaten-track routes, weekend getaways, adventure sport, wildlife and conservation
Photojournalists who travel constantly, take beautiful photographs, explore unusual destinations, take a hard look at well-known ones, and offer great travel advice.

Going places, doing things in Africa. See below for more info on the latest issues and find out how to subscribe
The one thing you're doing wrong with panoramas
Words & Photos: Getaway. Article from the Getaway Online Magazine 2015.
Taking a good panorama image is harder than it looks. In our October 2015 Masterclass we talk about stitching the perfect panorama. Most of the time software systems like Photoshop can handle stitching correctly, and produce beautiful vistas. Occasionally however, things go wrong.
Have you ever had a series of images where the lines don't meet up correctly, or angles refuse to sync? Most of the time we have to discard panoramas like this, or go through complex, time-consuming editing processes to get a clean, natural-looking image. Luckily, this problem can be largely eliminated by understanding parallax error and using a panorama head on your tripod.
Lake Quellacocha, Peru lies at an altitude of 4350 metres. Image by Teagan Cunniffe.
Firstly, what is parallax error? This exercise is one way to understand it: hold your index finger in front of your nose, and then take turns in closing one eye, and then the other. Notice how your finger appears to move? Next, keep both eyes open and move your head slowly from left to right, keeping an eye on the background and how your finger seems to shift in relation to it. That's parallax error.
Parallax is a displacement or difference in the apparent position of an object viewed along two different lines of sight, and is measured by the angle or semi-angle of inclination between those two lines. Nearby objects have a larger parallax than more distant objects when observed from different positions.
In practical terms, this means that when you pan your camera to take a series of photographs to later stitch into a panorama, the act of sweeping your lens from one side to the other causes your camera to record different angles to a single object. When it comes to stitching, software can't fill in the gaps and leaves that part of the image disconnected. This happens mainly with objects closer to your lens.
The easiest way to fix this is by finding your camera's nodal point. The nodal point is where light rays entering your lens converge and your centre of perspective is found. To control for parallax error, you'll need to keep your lens in a fixed position and instead rotate your camera around the lens. You will need a panorama head on your tripod to be able to do this properly.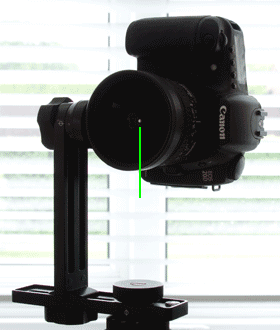 Notice how the nodal point, the sphere of light into the lens, stays in the same place as the camera is rotated. This will greatly reduce parallax error. Courtesy John Panos.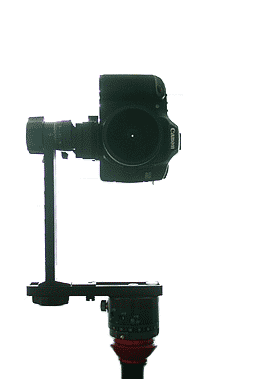 A correctly set up camera on a panorama tripod head. Courtesy John Panos.
Nodal Ninja is one of the leading brands in panorama tripod heads. You can buy one here for R4950. There's also a cheaper alternative via Sharp Vision, which ships to SA.
There are even a few DIY tutorials on making your own panorama head. Simply head to Google, then to your local hardware store to start building your own.
Already have a panorama head and want to know how to correctly set up your camera to find the nodal point? Watch the video below, which will take you through the steps.
If you enjoyed this article and would like to read more about travel and the outdoors, why not subscribe to this quality publication – now available in print or digital format (note that all print subscribers can claim a FREE digital version)?

Looking for a gift for someone with wanderlust and a passion for nature? Let them receive a copy of this great magazine from you every month.

Remember, digital subscriptions make a great gift too, and are perfect for friends and family overseas.

See what's in the latest exciting issue of Getaway.