It's a breath of fresh air
Knysna's National sea Rescue Institute (NSRI) received a life-saving piece of equipment from the Knysna Antique and Classic Boat Show, with the handover of a new paediatric CPR dummy taking place on Wednesday 11 September.
Even though the boat show – scheduled for October – typically only hands over donations once the event has taken place, for the first time organisers have managed to make the donation before the event has even begun.
The CPR dummy, worth more than R5 000, is meant to mimic a child – the first dummy of its kind that Knysna's Station 12 has received. Previously, they only had an adult CPR dummy, meaning that when it came to resuscitating a child they had to rely solely on their theoretical knowledge. According to station commander Jerome Simonis, the dummy will make a huge difference for the organisation.
After the event on Wednesday evening, NSRI volunteers immediately began practising on the new dummy under the watchful eye of the station's medical professional, Dr Berend Maarsingh. The volunteers all agreed that the new dummy would go a long way to improving their abilities as lifesavers.
Co-organiser of the boat show Cameron Searle said that it was only fitting that an organisation such as the NSRI was the beneficiary of the donation this year, pointing out how significant the work is that they do.
The Knysna Antique and Classic Boat Show will be kicking off on 5 October in Thesen Harbour Town, so be sure to diarise the date.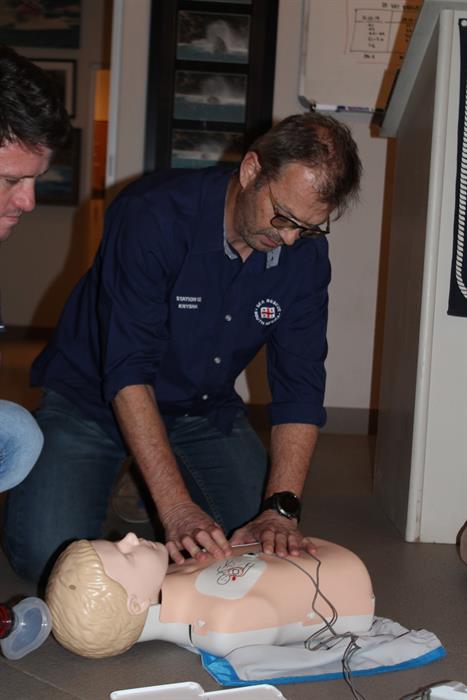 Dr Berend Maarsingh demonstrates how to carry out defibrillation on the new dummy. Photos: Blake Linder
Read a previous article here: Resuscitating first aid at NSRI
'We bring you the latest Knysna | Garden Route News'
Source: Knysna Plett Herald News