If you want something done
The 2020 Karoo to Coast race may have been officially called off due to Covid-19 restrictions, but a group of local cyclists would not settle for that and on Sunday 27 September attempted to tackle the route.
"Some of us had trained so hard to prepare for the Karoo to Coast (K2C), and it's something we look forward to every year, so we just had to do it," said experienced local cyclist Herley Julies, who has completed the race a phenomenal 15 times over the years.
He did, however, pass up the chance to take part last year due to the weather on the day, which was the exact opposite of the weather they were graced with on Sunday. "It was pretty cold and concerning early in the ride, but then the sun came out and it blessed us for the rest of the ride."
The riders set out in Uniondale, as the customary starting point of the K2C each year. The route typically comprises 100km of some of the most breathtaking mountain and forest scenery as it snakes its away along some of the old routes and gravel roads that the Knysna forests are so well known for.
Unfortunately for Julies and company, a stretch of the original race goes through private property, so they had to cut about 10km off their total distance. This didn't make the route any easier, however, as the infamous climb up the Gouna Pass to the top of Old Cape Road always lies in wait for riders.
Photo gallery: Karoo to Coast… on our own
Having camped in Uniondale on Saturday night, Julies' group of 17 riders started out with the hopes of conquering the route early on Sunday morning, but not everyone would be able to complete it.
"It's a very tough ride, and it's made even tougher when there are no supporters or water points along the way to help push you on," Julies said.
It would end up being only Julies and another rider, Donald Maluleke, who would tackle the Gouna Pass. "Most of the other guys turned off at Kom se Pad, and took the flatter, 'easier' route around to the top of Old Cape Road," Julies quipped in jest.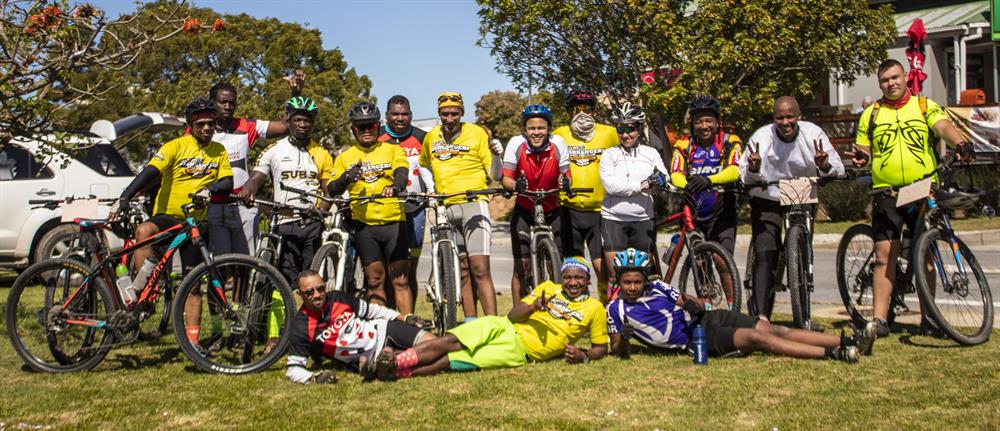 Fifteen of the original group of 17 at the start of their own attempt of the Karoo to Coast in Uniondale on Sunday. The official race was cancelled due to Covid-19 restrictions. Photos: Blake Linder
'We bring you the latest Knysna | Garden Route news'
Source: Knysna Plett Herald News