48-hour film race huge success
48 hours. That was how long contestants in the recent Film Race (25 to 27 September) had to produce their own short film. Event organiser Cara Botha of Garden Route Media says they were pleasantly surprised with the number of entries.
"We were hoping for 10 to 20 entries for the region, but 58 teams entered."
The concept of the Film Race is simple – teams are given a genre, prop, and character dialogue to conceptualise, write a script, shoot, edit, and deliver a finished film within 48 hours.
Kloppers was the main prize sponsor, providing shopping vouchers and Godox video lights as prizes.
In addition, Garden Route Media sponsored cash prizes as well as a masterclass in corporate video production. Kloppers also sponsored a camera bag worth R2 000 for the best behind-the-scene photo, which was won by Group Editors' digital coordinator Wessel van Heerden.
The idea to host the Film Race came from Marius Wannenburg, the managing director of Garden Route Media. "After the hard lockdown, the production industry has been slow to restart," he says. "We have always thought that such a film challenge would be great for the area and figured that if we have the time to host the event, teams will have the time to take part in it."
The top three films will be screened at the Garden Route International Film Festival on 9 and 10 October in Knysna.
The Garden Route Mall has agreed to screen the top five films of each category at the mall. Dates will be announced on social media. "I remember the first time that I saw one of my films on the big screen," says Wannenburg. "It was probably the single event that inspired me the most to pursue a career in this industry."
Six2Six won the amateur category, their genre being "Fantasy". They had to use a coffee mug as prop and use the line "This is why people hate flat Coke." The winners are Dalene Meyer and Pieter Lombaard.
Garden Route Media says the standard of the entries was much better than they expected and compares well with similar challenges from around the world. The best three entries from each category can be viewed at www.filmrace.co.za from Wednesday 7 October.
The 48-hour Film Race will become an annual event.

Group Editors' Wessel van Heerden (left) won a R2 000 Lowpro camera bag for the best behind-the-scenes photo. Here he receives his prize from Christo van den Berg of Kloppers.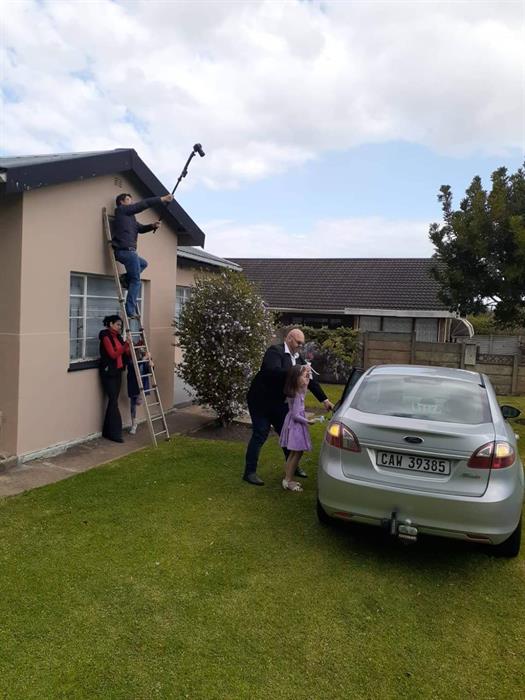 This is the behind-the-scenes photo that earned Van Heerden the first prize. He was given the genre  "Mystery", a light bulb as a prop and had to use the line,"It's not quite true".
'We bring you the latest Garden Route news'
Source: Knysna Plett Herald News